Avoid the Spam and Trash Folders—Tips for Successful Email Marketing Campaigns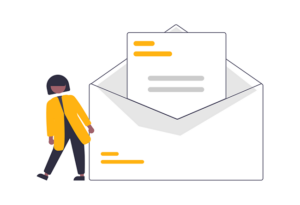 If you're like most people, your email inbox is inundated with a steady flow of messages all vying for your attention. You need to stand out from the crowd if you want a solid open rate that gets your recipients to click through to your site.
Writing this kind of email is an art and a science. It may seem challenging, but it's worth the time and investment to get it right. A strategic email campaign can yield big dividends—research shows that for $1 spent on email marketing efforts, brands can enjoy an average $42  ROI. Keep in mind the following tips for successful email marketing campaigns guidelines when planning your newsletter content.
You should have a specific target in mind with each email. Is it lead generation, customer retention, sales, or building a customer base? Determining what your end game is ensures that you stay on message.
Bring Value to Your Customers
You need to emphasize what your recipients will gain if they open your email. Are you announcing a promotion or sale, or introducing an exclusive look at a new product line? Your email is your sales pitch, and you want to entice your readers to learn more.
Don't Overlook the Subject Line and Preview Pane
They say you don't get a second chance to make a first impression, and that's especially true with email. Busy people with crowded inboxes tend to glance at the subject line and preview pane and make the decision whether to open an email or send it to the trash in just a few seconds. Subject lines should be brief and impactful, emphasizing action verbs and the customer value. Preview headers should also be short enough for readers to get the gist of them.
You don't need to overdo it with all caps, lots of fancy fonts or tons of photos. A clean, streamlined email is easier to read and gets your point across. Avoid any wording or punctuation that makes your email look unprofessional or spammy.
Target Your Emails for Greater Effectiveness
Two of the most important trends in email marketing are personalization and effectiveness. Personalized email uses customer data to craft specific messages to better appeal to them. Customers may be inclined to open an email that's been targeted specifically to them; for instance, someone who's purchased several pairs of shoes from your brand may get an exclusive first look email at your newest styles. Segmentation slices and dices your contact list so you can address specific demographic groups. If you have a chain of shops and two of them are having a sale, you can send out emails to customers who live in the areas where the stores are located.
Contact Us Before You Hit "Send"
Successful email marketing campaigns require a certain finesse and expertise, the kind you get with a digital marketing agency. Perfect Partner Solutions can help you manage your contact list and craft effective messaging that helps your company stand out in the inbox. Contact us today for any of your digital marketing needs.