Getting Started with Social Media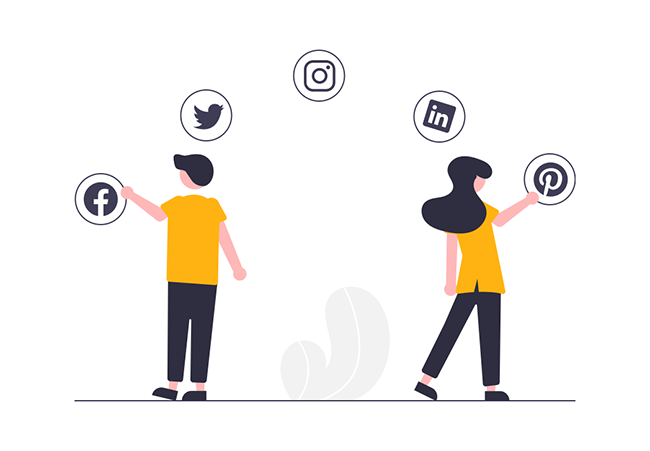 Which social media platforms should I be using to promote my business? This is the question I hear most often when I work with small business owners who are just getting started with social media for promoting their products or services. It's not a simple question to answer, however.
There are many factors that go into deciding which social platforms to invest in as a business owner, including which industry your business is in, what assets you have to work with, and which tools or apps you feel comfortable using.
If you are a B2B company, providing services or products to other business owners, LinkedIn is definitely a place I would suggest investing your time, either as yourself under your personal profile or as your brand with a Company Page.
Products do well on Instagram and Pinterest in particular, so if you have unique photography and video assets to share, these are the sites I would recommend you get more familiar with.
Before you can really determine which social media platforms to utilize, you'll want to create some Buyer Personas to make sure you truly understand where your target audience is spending time online and what their goals and challenges are.
Once you have a better understanding of who your potential customers are and their behaviors, you'll need to know which platforms offer the features you need to promote your business and connect with your community.
Let's get started with the basics behind each social media platform and what features they offer.
Google My Business
LinkedIn
Facebook
YouTube
Twitter
Instagram
Pinterest
Snapchat
TikTok
Google My Business
In my opinion, everyone should have a basic listing on Google to drive search traffic to your business. Even if you are a service provider with no physical location to direct people to, Google is typically the first place people start when searching for which companies offer what they're looking for.
If you've ever looked up a restaurant on Google to determine what their hours are or to look at their menu, you've probably discovered all of this information without ever having to go to their website. This is the power of SEO (search engine optimization) and having your Google listing as up to date as possible.
The average business is found in over 1,000 searches per month, with 84% of these coming from discovery searches.
49% of businesses receive more than 1,000 views on Search per month.
5% of GMB listing views result in a website click, call, or direction request.
16% of businesses receive more than 100 calls each month from GMB.
GMB Features for Businesses
Create and promote Events.
Publish Video / Photo content.
Provide business info: hours, menus, phone number, website link, etc.
Feature Customer / Client Reviews.
Create Offers for local visitors or online sales.
Sell products or services with shoppable links.
Share branded content including blog articles or media coverage.
LinkedIn
Most people spend time on LinkedIn when searching for a job or when updating your resume, but this is the place to be if you're interested in networking and connecting with others in your industry. It's also the place to be if you are a B2B service provider looking to reach potential customers.
LinkedIn has more than 690 million monthly active users.
In 2019, LinkedIn was voted the most trusted network.
80% of social media B2B leads come from LinkedIn.
Over 45% of all social media traffic to brand websites comes from LinkedIn.
65% of B2B companies have used LinkedIn paid ads to acquire customers.
LinkedIn Features
Video features including LIVE video which can be scheduled in advance.
Publish original content including photos, articles, and presentations (PDFs).
Discover industry experts and hashtags to Follow.
Celebrate employees or business milestones.
List Job Openings; Recruit team members
Network with business partners / brands
Promote services, industry news, share insights or latest trends.
Stay up to date with LinkedIn Learning platform.
Advertise using LinkedIn's ad platform.
Facebook
Besides connecting with your family and friends, Facebook has grown to be a place to also engage with brands and local businesses you want to keep up with.
68% of Americans use Facebook.
74% of Facebook users check it daily.
96% of Facebook users access it on a mobile device.
66% of active users say they Like or Follow a brand on the platform.
By the third quarter of 2019, the platform had attracted 2.5 million monthly active users.
Facebook Features for Business Pages
Showcase services or products.
Highlight Customer / Client Reviews.
Create a Group for your Online Community.
Setup Rooms (group video chat feature) for intimate Events or connections.
Publish Video / Photos.
Promote Events.
Share Offers.
List Job Openings.
Feature LIVE video content.
Publish Stories.
Discover content through hashtags.
Raise money (non-profit organizations).
Advertise using Facebook Ads Manager.
YouTube
Even if you're not interested in creating unique content that warrants its own channel on YouTube, small business owners are taking advantage of this platform by creating short commercials to advertise on large channels with a loyal audience.
YouTube is the second largest search engine globally.
Most of YouTube's user base is male. The ratio is 55% men to 45% women.
More than 70% of YouTube watch time is generated from mobile devices.
96% of all teens in the United States use YouTube.
On mobile devices alone, YouTube reaches more adults aged 18 – 49 during prime time than any cable network does in an average week.
Twitter
Twitter has more than 330 million monthly active users.
53% of users say they bought a product they first saw on Twitter.
79% of Twitter users like to discover what's new, making it the top platform for discovery.
Twitter ads are 11% more effective than TV ads during live events.
83% of the people who sent a Tweet to a company and received a response, felt better about the company and were more likely to do business with them.
Twitter Features
Discover trends.
Find relevant content within your industry.
Promote Events.
Host Twitter chats.
Search for new people to follow.
Create lists of people and/or brands.
Advertise by promoting your Account (to grow followers) or a specific tweet for Brand Awareness or to feature an Event.
Instagram
As of late 2019, Instagram has 1 billion monthly active users, and 500 million of them use it daily.
72% of teens say they use this platform.
64% of Instagram users are under the age of 34.
71% of US businesses use Instagram. It surpassed Twitter in business users in 2017.
90% of users follow a business or brand on the platform.
Every month, 130 million people tap on an Instagram shopping post to learn more about products.
Instagram Features for Business Profiles
Video features including LIVE video, IGTV, and Reels
Raise money (non-profit organizations)
Discover hashtags and influencers to Follow or engage with.
Create Stories with interactive Stickers: location tags, polls, questions, etc.
Sell products with shoppable tags.
Connect with other brands and community partners.
Advertise using Facebook's ad platform.
Pinterest
Each Pin on this platform points to a landing page or specific URL for driving traffic. This platform is quite unique and requires some expert eyes to manage the account, but with its robust search capabilities, this is a great place to advertise.
At the end of 2019, Pinterest reported having 322 million monthly active users worldwide.
71% of global Pinterest users are female; 40% of U.S. dads use Pinterest.
83% of weekly Pinners have made a purchase based on content they saw from brands on Pinterest.
47% of Pinners log onto the site specifically to shop, making it nearly four times more effective at generating sales than other social platforms.
1 in 2 people make a purchase after seeing a promoted pin.
Pinterest's unique features
Pinterest is a visual search engine with vertical pins taking up most of the real estate in the feed.
Video pins outperform on this platform with graphic images (photos with text overlay) are the second most popular form of content shared.
Organize pins by topic or board; follow boards, individuals or brands.
Keywords and descriptions are just as important as the imagery on this platform.
All content points to a URL to drive traffic to your brand website.
Snapchat
As of Q1 2020, there are 229 million daily active users worldwide on Snapchat.
More than half of all U.S. internet users aged 15 to 25 use Snapchat.
Over 210 million snaps are created on Snapchat every day.
63% of Snapchat users say they visit the site daily.
Almost four in ten Snapchatters claim they discover brands thanks to Snapchat celebrity endorsements and online posts.
TikTok
As of October 2019, TikTok reports having 800 million monthly active users worldwide.
Roughly 50% of TikTok's global audience is under the age of 34 with 26% between 18 and 24.
56% of TikTok users are male.
Just over one in eight adults have joined TikTok.
Knowing who your target audience is and where they spend time online is essential before diving into a new social media platform for your business. I always suggest getting familiar and confident with one platform before introducing another. And consistency is key.
If you can't commit to staying involved on a regular basis, you'll want to consider hiring a Social Media Manager who can devote their time to growing your audience, connecting with influencers in your industry, and staying on top of the latest trends and changes that continually arise when it comes to best practices and new features to take advantage of. Reach out to our team if this is something you're interested in pursuing. We have over 18 years of experience in managing brand accounts across all social media platforms.