COVID Trends We'll Still Use After the Pandemic Ends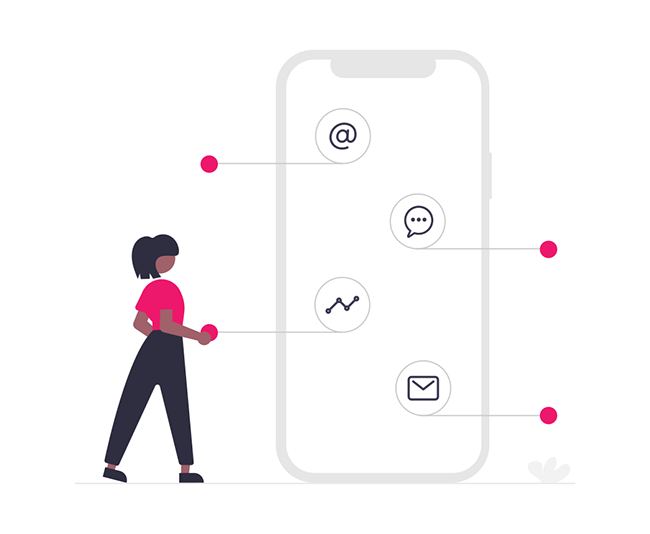 There's more hope in the air lately, with COVID-19 vaccine distribution underway and a relief package on the horizon. We're looking forward to resuming our normal activities, although things will be somewhat different as a result of living through the pandemic. The same is true for social media and digital marketing.
Many trends have popped up as a result of COVID, whether it's new social apps and features, or new ways we use digital tools. One of the biggest trends to note is the overall rise in social media use—which isn't surprising, after lockdowns and social distancing altered how we connect with each other. In July, there was a 10.5% year-over-year increase in social media use—that means more than half of the global population is now on at least one social channel. We're also spending more time on social media, post-pandemic: 46% of women and 41% of men reported spending more time on social media as a result of COVID-19.
So it's more important than ever to have a solid social media and digital marketing strategy, but it may not look the same as it did a year ago. Here are some trends that popped up in the last year that I think have staying power as we move forward into a more hopeful future.
Video will be used to entertain and educate.
If there was a social media supernova in 2020, it was TikTok. The video app kept the world enthralled, whether they were watching the latest dance trend set to a Megan Thee Stallion single or a tutorial on making banana bread. In April 2020, the TikTok app had been downloaded 2 billion times around the world.
We will continue to see new ways to connect with each other.
Going online was a lifeline for many people who were isolated from family and friends. We could post, comment on posts, send DMs, video chat, and build communities based on shared causes or pastimes. The digital world will continue to innovate and explore new ways to build interaction between users. One recent example: Clubhouse, an audio-based social app that's been billed as a cross between podcasts and Twitter. Users can host a conversation on a topic, and invite others in the virtual "room" to chime in.
Tone will be important.
Some brands went inspirational during the pandemic, crafting feel-good messages that emphasized togetherness and solidarity. Others went political, lending their voices in support of movements or political candidates. As we continue to move forward toward the one-year mark of COVID-19 in America, brands may evolve their messaging on social media to reflect the changing times. 
Remote apps and tools will be essential for work.
We're all pros at remote work at this point, right? We've been helped along this transition from office to home with a host of tools and apps designed to make our lives easier. And there's more to come: Microsoft just introduced Viva, a module-based employee engagement and communications system the company calls "a gateway to your digital workplace."
Creativity will be a driving force.
People got inventive when they were stuck at home with not much to do. They created, using digital apps and tools, and then shared their creations with the world on social media. Brands will want to showcase not just their own creativity in their messaging, but also highlight the ingenious work of their followers. 
We'll see more promotional opportunities.
Brands have realized that all those people on social media make for a captive audience for their products and services. Consequently, they're making it simple for potential customers to shop and buy via social media channels. Apps such as Koji streamline the process for businesses by offering templates they can use on their channels (for a small commission) so people don't have to go to an external site to make a purchase.
It can be hard to keep up with all the changing trends, so it's wise to hire someone to handle all your social media and digital marketing needs. Perfect Partner Solutions stays current on all the latest tools and trends so your messaging stands out in a crowded digital landscape. Contact us today to help your company find its voice online.